LaKeisha Randall
Civil Trial Attorney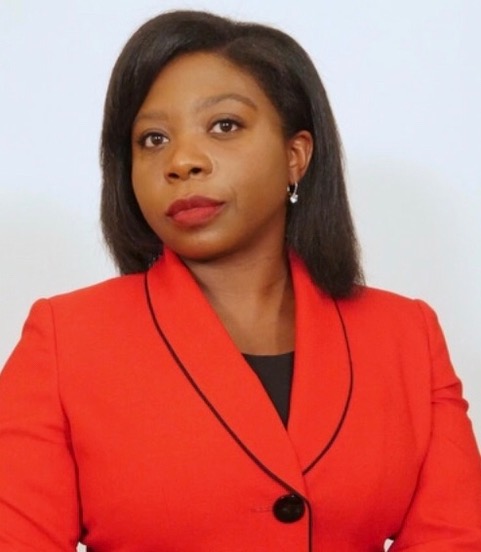 State Farm Insurance
 Atlanta, Georgia
Interview Transcript
Pamela: Hi, my name is Pamela DeNeuve, and I'd like to welcome you to Lawyer of the Week. I am very pleased this week to have LaKeisha R. Randall as our Lawyer of the Week and let me tell you a little bit about her.
LaKeisha R. Randall, Esq. is an In-House Trial Attorney for State Farm Mutual Automobile Insurance Company. An Atlanta native, LaKeisha is a member of the State Bar of Georgia and the District of Columbia.
Ms. Randall earned her Bachelor of Arts in Sociology, cum laude from Georgia State University where she focused on African American Studies and Women's Studies. She earned her Juris Doctor from North Carolina Central University School of Law.
There, she won Best Oral Argument & Best Overall Performance as a member of the Moot Court Board, served on the Student Bar Association, and founded the Pro Bono Council. Rounding out her legal studies, she also spent a semester abroad at Universidad de Costa Rica.
LaKeisha has earned a reputation as a steadfast leader! She was the inaugural 2014 Young Lawyers Division Chair of the Georgia Association of Black Women Attorneys and has since served on its Executive Board. Chair of Interbar Relations from 2015-2017, she was integral at fostering relationships with local and national bar associations, identifying cross-marketing and joint service opportunities for GABWA members.
In addition, on behalf of GABWA, she's served on the Multi-Bar Leadership Council ("MBLC") since 2015—the MBLC is a coalition of Atlanta bar association leaders that work to promo diversity and inclusion with the bench and bar. She's currently on GABWA's Executive Board as Membership Chair, tasked with the growth and retention of members.
Merging both her love for trial and inclusive progress, she is 1 of 3 chairs of the ABA Litigation Section's Minority Trial Lawyers Committee. With nearly 2,000 members under her purview, this committee is the home of all minority trial attorneys within the section, minorities interested in transitioning into trial practice and law students.
Before being appointed to chair, she was 1 of 4 nationally selected for the two-year Young Lawyer Leadership Program fellowship from 2014-2016.
Second to diversity and inclusion, Ms. Randall is passionate about wellness and serves locally and nationally—within the State Bar of Georgia, she was appointed by the president to serve on their Attorney Wellness Taskforce.
This task force is comprised of approximately 20 dedicated group of practicing lawyers and jurists who understand the day-to-day stresses associated with the practice of law. They study and promote lawyer wellness programs by identifying factors that impact the physical and emotional well-being of attorneys. They also seek out and vet sources of information that will be helpful to the members of the State Bar of Georgia and to provide resources for their members in crisis.
Within the American Bar Association, LaKeisha was appointed onto the 2015-2016 Commission on Lawyers Assistance Programs ("CoLAP") Advisory Committee and subsequently appointed as 1 of 10 CoLAP Commission Members for 2016-2017 and 2017-2018. CoLAP educates the legal profession concerning alcoholism, chemical dependencies, stress, depression and other emotional health issues. Further, it assists and supports all bar associations and lawyer assistance programs in developing and maintaining methods of providing effective solutions for recovery.
Finally, LaKeisha has been a leader within the ABA Young Lawyers Division since she began practice in 2012. She has been on the Membership Board since 2012, was selected as only 1 of 16 national Scholars in 2015, has led the division's #Fit2Practice initiative that encourages wellness, mental agility, and fortitude within the profession, and is now Vice Director of the National Conference Team.
2015: Selected as a Top 40 Under 40 by the National Black Lawyers Association
2016: Top 40 Under 40 Alumni by North Carolina Central University
2016: Inaugural recipient of State Bar of Georgia Young Lawyers Division Stars of the Quarter Award—selected as 1 of 3 young lawyers for civic and professional service
2017: Honored as "Who's Who in Black Atlanta" and featured in Atlanta Tribune Magazine.
She's published a host of articles about litigation, wellness, and leadership. And, this year was an author and editor of an ABA Section of Litigation Publication entitled Her Story, which is a collection of essays written by prominent women litigators from across the country.
Before going in house, she was the Senior Judicial Law Clerk for the Municipal Court of Atlanta. In that capacity, she was the only legal advisor to the 10 trial judges of the bench and its senior judges. She is currently the State Bar of Georgia's YLD Representative for the Northern District, a graduate of the 2015 Leadership Academy, and serves on the Professionalism Committee.
Outside of the profession, she attributes her balance to prayer, yoga, meditation, boxing, and traveling. She is also a proud member of Delta Sigma Theta Sorority Incorporated and the Lamar Inn of Court.
http://www.americanbar.org/groups/young_lawyers/initiatives/fit_to_practice.html
Pamela: Welcome, LaKeisha.
LaKeisha: Thank you so much for having me.
Pamela: You have accomplished so much in a short period of time of your legal career. It's just very, very impressive. So we had to read every bit of what you've accomplished because we couldn't leave anything out, because you've accomplished so many things actually, so many things.
LaKeisha: I appreciate that. Thank you.
Pamela: Thank you so much for being our Lawyer of the Week.
LaKeisha: Thank you for having me.
Pamela: Okay, so I'd like to ask you our Lawyer of the Week questions, and the first one is: when and what made you decide to become a lawyer?
LaKeisha: My story is a little different than most. I didn't decide to even attend law school until my junior year of college. Up until my junior year of college, I was committed to being a journalist or a sociology professor. And I finished undergrad 2007 right at the cusp of the depression- Great Recession and I decided I would either- make a sound decision. So I knew something I had to get an advanced degree, so it's either go get a PhD or get a law degree- those are my options. And after looking at the numbers, I decided that a JD was a better investment because I can do a wide array of things with that. I can go into business, I can practice law, I could become a professor.
So I was very streamlined. Even going into law school, I did not intend to practice law. In fact, my law school admissions essay, I talked about the diversity of the degree and not my passion for practicing law. However in law school, I fell in love with trial practice, trial advocacy, Moot court. All the more practical courses and clinics, I came alive and I realized I wanted to practice law. So after my first year of law school, I began to work for the Public Defender's Office, did the Innocence Project all throughout law school, anything equipped with clients and helping them directly, I just want to take full advantage of.
So although I went to law school, I did not intend to practice law as an attorney until almost my second year.
Pamela: So now, LaKeisha, one of the things that I noticed- even in reading your bio and speaking with you- is that you have such an enthusiasm for whatever it is that you decide to do. Where would you attribute that enthusiasm that you have for life and for your career or for anything that you- you take upon as something you want to do?
LaKeisha: I appreciate that and I agree 100%. I am all or nothing. I believe that the world has enough mediocre people. I had a mentor tell me that once and I give 110% to everything I do. And if I my heart isn't there anymore, I will gracefully, you know, bow out or change my mind. But more importantly, I realized that practicing law and being an attorney is an honor and a privilege and with that comes great responsibility.
So I think that to be a proper steward of my law license, a steward of those who wants to become attorneys, and particularly as a woman of color, I know there aren't very many of us in the profession. And I think that it's important to me to represent others well. Those who may have dreamt of becoming attorneys and never accomplished that goal or those who may want to become attorneys and look up to me. You know, you never know who's watching you, and I think that it's important to be a good steward of everything you do and bring your best to the table.
Pamela: Yes, well you certainly have done that. Were you like that as a little girl as well, LaKeisha?
LaKeisha: Absolutely. I'm sure- I'm sure that my friends would say that I was always doing that. I was in Student Government Association from elementary through graduation in twelfth grade. I was all about The Student Bar Association in law school. I've always been one; if there's something going on I can contribute my talents to, I'm the first to raise my hand. It's just the right thing to do, in my opinion.
Pamela: That's wonderful to hear that. So tell us about your practice and what your biggest wins and your biggest challenges are.
LaKeisha: I'm currently an in-house trial attorney for State Farm, and although I work for the corporation, some people forget that I actually represent individuals. So giving an example of what I do, if someone is insured by our organization and they are then later sued, I represent that individual.
So although there are plaintiffs involved and people always associate the human capacity with that, I actually have a client on my side who I'm defending- who, you know, deserves proper representation, you know? They're often nervous, and they've never been sued before, this is their first time being involved in the legal process.
So a win for me- at the very beginning- is to let them know that I'm going to give %110 to their case. I'm gonna, you know, raise every defense possible and applicable to their situation. And although I'm not representing the plaintiff or the innocent victim- as people like to think- I think that you know, for me of course, it's the "land be a defense verdict." Particularly in situations where they're deserving of that, you know? So ultimately, for me to land a big defense verdict in my current position, but more importantly, to make sure that my clients have a good- a good experience in the legal process. You know, the human factor, I think often is overlooked, although the legal strategy is important and critical, you know?
I think the softer skills are also very important. You know, to allay their fears, to let them know it's okay, to listen to their concerns in order to prepare your strategy so that they can be great witnesses.
Pamela: That's great, and what would you say your biggest challenges are?
LaKeisha: My biggest challenge, I guess, would be managing expectations sometimes, you know? Sometimes clients may not fully understand the process, so I think that preparing them on the front end is very important, you know?
It's particularly with my industry where there's insurance involved sometimes clients just wanted to make it go away, and it's not that simple. You know, to help them understand the process of what it entails. The one thing in my initial interview, I always tell my clients is that we'll be together for at least a year.
So it's a great relationship, you know? And of course it may be shorter than that if we resolve it, but if not I want them to understand the long-term relationship- a relationship that goes beyond their case, you know? I understand life may happen and change within that year. And it's my responsibility is to make sure I keep them up-to-date on what's going on, you know? And to also represent them as best I can within that time process.
Pamela: Wonderful. Well, I want to change the nature of our conversation a little bit, and I'd like to ask you because I know you are on the task force for health and well-being. Can you tell our audience and me why health and well-being for lawyers is important to you?
LaKeisha: Absolutely. Um- I think that lawyer wellness is something that is the elephant in the room. That no one doesn't address enough. Unfortunately, recent studies have shown that lawyers are at a higher risk for substance abuse, we're at a higher risk for depression, suicide and the way I like to explain it to others is that we take on the brunt of others' problems.
You know, unfortunately, a lot of times people don't come to lawyers until there's actually a problem. So if you have a profession that your sole responsibility is to take on the challenges of others and a high level- there's high risk involved- a lot of times lawyers don't take the additional time to make sure they're okay, you know? So self-care is very critical. I think it's very important to know yourself and your body, to be mindful of what's going on within yourself and to have ways to check in with yourself and to allay those problems if any arise.
Recent reports showed that my generation of lawyers, young lawyers, in particular, are at a higher risk than in years past, so I think that creating awareness around well-being is something that we have to change the stigma of in our profession.
Because think about it- this level, most of us are strong individuals. We're a type-A, you know? We're used to getting things done and powering through. And unfortunately, sometimes we ignore the signs of, "Oh no, I'm stressed or overworked." Or we work throughout the day and have not eaten, you know?
So I think it's very important to just- for general health and well-being- but in addition to that to, you know, to bring your best to your client. If you haven't slept well, you may not be thinking this properly, or if you have not eaten, perhaps, you know, you may not have the mental stamina and agility to do everything you could normally do if you were well rested or in good health.
So I think that professionally, it's important to give our clients our best representation and also personally, is to have a long and thriving career, I think it's important to make sure your faculty is all together.
Pamela: Mm-hmm, that's- that's very good. I have, you know, witnessed personally in many cases how there are a lot of lawyers that are depressed. And I think the things that you're mentioning- I mean a lot of times, it is clinical depression, but a lot of times- it's like what you mentioned about not getting enough rest, not eating,
not taking the time to take care of themselves that wear on them after a period of time. What is your thought about depression and lawyers?
LaKeisha: I don't have a strong thought, per se, about depression in general. However, I think that it's important to take the time to know yourself and know your body and to, you know, take care of yourself. For example, I often have self-care Saturdays or self-care Sundays where I intentionally carve out time to check in with myself.
And I schedule it, you know? I mean, on my calendar is something that's not gonna be easily marked out to put another appointment there. I think that, again, to bring my best to the table to others- it's kind of like the adage, you can't pour from an empty cup.
Pamela: Yes, yes.
LaKeisha: I think it's important and very critical to take out time to really take care of yourself so that you can help others appropriately. So I think that as far as depression, it's just something that, you know, we all are exposed to, and I think that we have to do the best we can to protect ourselves and to get help when necessary.
Pamela: Okay, that's great. I think protection is a great word. Now, although you're young and a young lawyer, what legacy do you want to leave in your law practice? You have to kind of use your imagination here.
LaKeisha: I am a younger lawyer, however, I think that legacy is something that we all- we're creating, whether we like it or not, you know? Whether you're thinking of it or not, you're creating a legacy. So I would like to leave a legacy where people know that I love what I do, I love what I do. I'm gonna give the best that I have to offer to the world. And beyond myself- again, I think it's bigger than me, you know? Again, I think that those before me carved out a path for me to even be here. And I think that, in walking in my journey, that I want to leave a legacy of excellence. I want to leave a legacy of honesty, integrity, service- service of the community- the legal community and the community at large.
And ultimately, something that- I don't have children now. If I have children, I want to create a legacy where they would look up to me and know that I have given my best to the world. The talents I have been given by my Creator, I've used them to the maximum capacity.
Pamela: That's really wonderful. Well, I'm going to ask you our final Lawyer of the Week question, and that is: name one thing or more that you do to manage your stress levels.
LaKeisha: Um, I do a couple. I mentioned earlier my self-care days. I have self-care Saturdays, self-case Sundays. I'm giving an example; it can be big or small. So a couple of weeks ago, I felt stressed after a long week, so I had a self-care weekend, not just a self-care Saturday. And on that Saturday,
I actually laid on my hammock- it was raining that particular day, so I laid on my hammock- although it was a covered area- and I just relaxed, listened to the sound of the rain. I lay there for hours just recharging myself. That's very relaxing. I carve out time for that.
And smaller things I do, things that make me smile, you know- check in with yourself and know things that make you smile. So I'll have fresh flowers in my office, or getting my favorite smoothie or going for a walk. I also practice yoga- I mentioned that earlier. And I kickbox and box. I love to release the extra stress and the tension from that. Those have been all very helpful for me.
Um- and finally, I think- regarding stress, it's important to know your triggers and know how to work around those things. And if there's anything toxic, how to remove those things. So whether it's toxic people in your lives, you know, maybe ending those relationships or not adding on additional stress and on your limits.
Pamela: Wonderful. Well, LaKeisha, you've been just like a breath of fresh air. Your enthusiasm is contagious, and everything that you've accomplished so far is amazing, so it'll be really interesting to follow your career to see all the wonderful things you're going to be doing in the future, as well.
LaKeisha: I certainly hope so.
Pamela: Okay, well, thank you so much for being our Lawyer of the Week.
LaKeisha: Thank you for having me.

Pamela DeNeuve
I Help Focused & Successful Lawyers
►Achieve Peak Performance
►Soar to the Next Level 
►& Create a Legacy 
200 Peachtree Street Ste. 103, Atlanta, GA 30303
Cove Drive, Jacksonville, FL 32224