Mark A. Torres, Author
"Good Guy Jake"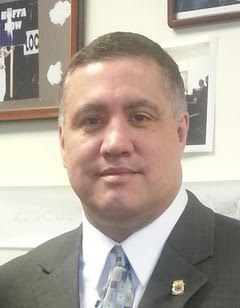 New York City, NY
Interview Transcript
Pamela: Hi, my name is Pamela DeNeuve and thank you for joining us for Lawyer of the Week. This week, I'm very pleased to introduce our lawyer, Mark Torres. And let me tell you a little bit about Mark. For nearly a decade, Mark Torres has been proudly serving as the general counsel to the International Brotherhood of Teamsters Local 810, a large New York City area Union. Mark is responsible for all the labor and employment related matters at the Union and on behalf of its thousands of members, as well as providing training to shop stewards in grievance processing and contract administration. Mark also serves as the Director of Legal Affairs to the Union's affiliated benefit funds.
Prior to joining Local 810, Mark was employed as a refrigeration engineer for New York University for nearly 20 years. And during that time, Mark also served as a shop steward at NYU. Mark earned his bachelor's degree from NYU in 2003 and his Juris Doctorate from Fordham University School of Law in 2008, both of which he earned while working full-time at NYU. After graduating, he began his legal career at Proskauer Rose LLP in the firm's renowned employee benefits and executive compensation department. Mark is an attorney admitted in the New York State Bar and is also admitted to practice in the United States Court of Appeals for the Second Circuit and the United States District Court for the Southern and Eastern Districts of New York.
Mark prides himself as "a teamster with a law degree." Mark also is a novelist. His debut novel entitled "A Stirring in the North Fork" is a gripping crime novel that was released in December of 2015 and we'll have his links below. The book is a force throughout social media and has been pictured by readers on every continent on earth. Mark just released his new Labor Union-related children's book entitled "Good Guy Jake," published by Hardball Press. The goal of this book is to educate children about the positive values of the Labor Employment Movement, the working class and charity, what they stand for and how to help the working class. And I'll have all of his links.
And Mark, thank you very much for being with us today.
Mark: Thank you very much, Pamela. I appreciate you having me.
Pamela: Okay, let me ask you the first Lawyer of the Week question: what made you decide to become a lawyer in the first place?
Mark: Well, I suspect like most of my colleagues out there, that I think I was a lawyer before I actually became one. I mentioned early on I was previously a shop steward for my local Union. I joined other social justice groups, fighting against injustice and that kind of steered me towards what I didn't know then, which ultimately became my legal career.
Pamela: Okay, interesting. Now, how did you start becoming a lawyer- I mean an author- because your books look very, very interesting?
Mark: Thank you very much and as all lawyers, we're creatures of writing and we write in legal form and legal prose. And I, like most my colleagues, I suspect enjoy legal writing. I love what I do. I love why I do it. But sometimes, you want to break from the strict formalities of legal writing and fiction gave me that freedom. You
know, it enabled me to write- to kind of take my ability to write in prose- and just kind of go with stories in directions that I want them to be taken to.
Pamela: So, when you went to school- while you were working at NYU all those years and going to school- how did you manage that with your schedule? That had to be pretty demanding.
Mark: It was, it was. In fact, I went to law school in the evenings, I worked- so it's a four-year, part-time program at Fordham, and I worked full-time in a day. And I tell you, you know- I can't- there's no formula to it. It's just hard work. You put your head down and you focus. And really meticulous scheduling is really what it takes, and a loving spouse who actually helped me get through it and helped raise our family.
Pamela: Yes, yes. Now, you must have created a passion for the Unions. How did that begin?
Mark: Well, I actually pride myself on being "a teamster with a law degree." It's something that's not created. It's just- you're part of an organization, a fraternal organization. I was a member. I was a steward and now I'm general counsel and it's just been a lifelong journey that I've been a part of and quite proud of. It gives me a unique perspective, particularly in my law practice, to see all sides, particularly from the members and clients that I represent. It gives me a unique perspective.
Pamela: Interesting. Now, what are your biggest wins and your biggest challenges?
Mark: Well, the biggest challenges are always- you know, obviously labor has been under attack, there's a lot of threats we face day in and day out. But at the same time, it gives me the ability to keep focus, to keep striving for the best outcomes. I can think of arbitration cases that we've had success with, from helping members in simple things that may seem ordinary, but to that member, it meant a lot. It meant their livelihood. Those have always been my biggest successes in helping others in that regard.
Pamela: That's great. So, I would categorize all that you've done as you are a peak performer and that is one of the things that I do, is I work with peak performers. So, I'd like to ask you, if you were to tell someone who's starting off, who felt like they couldn't be a lawyer and/or write a book, or pursue their dreams, what would you tell them are some of the things that you did to allow you to accomplish your peak performance?
Mark: Well, first and foremost, there are no shortcuts, like in life, and in the practice, as well. The goal is to work hard and really, particularly in law, is to master the facts. You know, you can have your arguments but without mastering the facts, you're gonna be kind of limited in how far you proceed. It's a heavy responsibility- lawyering. I feel that the best thing you can do is embrace it. Accept and embrace it, you know? And make it more of a stimulating project and career for you to do.
Pamela: So, you know, basically you're just saying just kind of hold your head down and just move forward and take the next right action on a day to day basis?
Mark: Yes. It's always a matter- it is always a matter of looking ahead, taking things as they come, I think certainly- look, what got me through law school while working full time, I take as my mantra throughout my career. It is working hard, it is being meticulous with scheduling, it is focusing on the task at hand but more importantly, it's embracing it. It's not trying to see it as an enemy, all of the busy, demanding times, but embrace it and make it art.
Pamela: Right. So find a way to enjoy it, or embrace it, or feel comfortable if you have a passion for it. Okay. What legacy would you like to leave in your law practice and/or in your writing of books?
Mark: Well, I'm happy and honored to be a husband, father, attorney and author and preferably in that order, but really, they're all intertwined and I'm quite blessed to have that kind of ability, to have that in life- livelihood and career. I always teach my children to do good and be good, and I try to live very hard by that mantra. And ultimately, being "a teamster with a law degree," something I'm eternally proud of.
Pamela: Okay, that's really wonderful. So, can you tell me one thing that you do to manage your stress levels?
Mark: That actually is easy. That's spending time with my family, whether it's throwing the ball in the yard with my kids or spending time with my daughter in art class, or just shopping and visiting places with my wife and family. It really helps to detach. You know, we all have to unplug, to detach from the busyness of the work and focus on what the real goal is: to live a happy, healthy life with family. It's about my family.
Pamela: You know, Mark, I really admire a lot of things that you've said. And one of the things that you've mentioned several times is the priorities of your family. What I heard you say is that your wife was very instrumental in helping you when you were working hard- you know and doing, you know, double duty while you were going to law school and working full-time. It sounds like, that you try your best to set an example for your children and that as a legacy, or something that you're really proud of and as well as your relaxation, include your family. So, what would you say- how does all of that- having that firm foundation with a family, help contribute to your success as a lawyer and as you said, a lawyer who's a part of the Teamsters?
Mark: Well, that's a great question and certainly it helps me stay grounded, and feel grounded, and keep my head where it's supposed to be. But at the same time, it helps me understand the importance. The people I represent have their own families and their own spouses and I see that vividly through my own experiences and trying to help them. I often try to, although perhaps not the easiest thing to do, but try to put myself into their shoes and approach a case with that regard. Trying to be in their shoes and how would I help them best achieve the best possible outcome?
And one thing I love, Pamela, about my wife and I'm thankful for, that she actually helped me co-author the first book, "A Stirring in the North Fork," and when my children saw me writing, my son Jake and Olivia in particular- my daughter Olivia, wanted to start writing themselves. So, my son's writing his own version of a book and it's wonderful to have- to inspire them in that way, without having to really think too much more. You know, just doing what you want to do.
Pamela: That's really a great example of modeling how you want your children to be and for them to actually be- obviously you're passionate about it- so much it encouraged them to pursue their dreams, as well.
Mark: Thank you.
Pamela: Well, thank you so much. It's so great to have you as our Lawyer of the Week and we appreciate your peak performance, and your setting an example as a lawyer, a teamster, and a family man and as someone who makes a difference in the world. And to our audience, I look forward to seeing you for our next Lawyer of the Week next week. Thank you.
Mark: Thank you very much.
Mark's Links:
Mark's Book Info:
Pamela DeNeuve
I Help Focused & Successful Lawyers
►Achieve Peak Performance
►Soar to the Next Level 
►& Create a Legacy 
200 Peachtree Street Ste. 103, Atlanta, GA 30303
Cove Drive, Jacksonville, FL 32224